People Strategies for Small Businesses 
Do I Really Need A People Strategy?
There's a world of difference between small companies and large ones, but the one thing they have in common is that they both want to employ the best talent in their field.
Sometimes, that's easier said than done. Larger organisations often have more money which can mean higher salaries, more benefits and more training. The larger the company, the easier it is to provide opportunities for employees to develop and advance in their careers.
Smaller companies can often feel frustrated and think that there is no easy way to compete, to attract and retain top talent.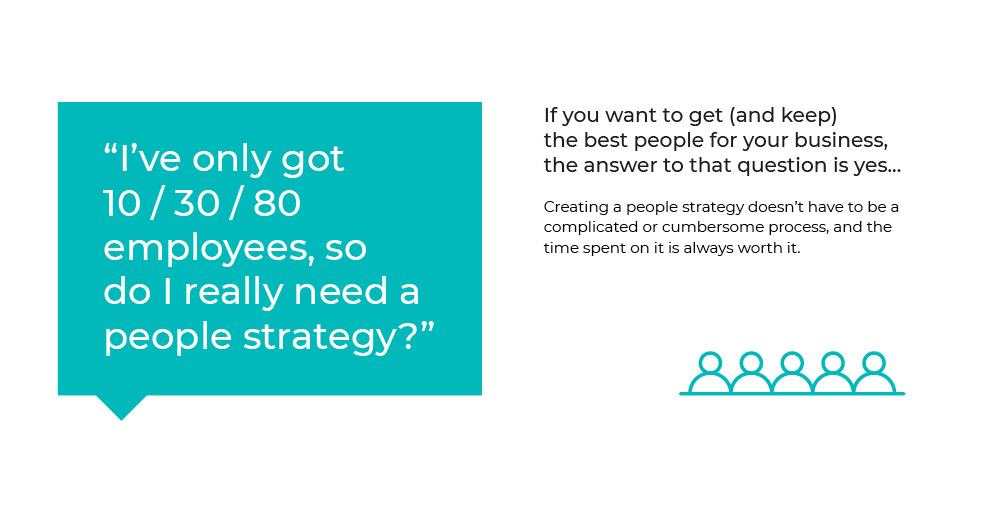 The good news is that that's only a reality at first glance. Smaller companies are agile and don't have the layers of bureaucracy that are often prevalent in larger organisations. In addition, smaller companies can be much more flexible and cater to individuals, can develop creative solutions easily, and can have vibrant, exciting non-corporate cultures where everyone can belong.
We always advise smaller companies to take the time to look at where they are at in their growth, their unique challenges and what they want to achieve in the long, and short term. Our paper, 'People Strategies for Small Businesses' outlines common situations that small companies find themselves in, and also common obstacles that get in the way of them creating a people strategy.
When a company understands the position it's in and where it wants to go, the planning can start. A positive employee experience can be created whatever the budget is.
So it's at this point where we help companies that we work with to figure out what will give their people the best experience possible and how to get there. There are a whole range of exciting and creative ways to approach recruiting, on-boarding, training & development, performance management, and of course, compensation & benefits. Small companies can package up these offerings into attractive and compelling employer branding, and really get the message out there in creative ways.
For more information, download our 'People Strategies for Small Businesses' paper, and look out for our upcoming series of bite-sized articles on easy to implement, sustainable people practices.
If you have any questions or would prefer to chat you can reach us in the office.
Eleanor
+44 (0) 161 660 9610
hello@rencai.co.uk