What's the difference between a HR Manager and a HR Business Partner?
HR leadership teams are finding themselves divided when it comes to deciding on what is the most suitable model for their modern-day people functions. Historically it has been accepted amongst the HR community that "Ulrich" will enable an effective shift from the traditional personnel type function, into the new modern-day partner to the business. I'm sure that most of you will have experienced/still do work with HR functions that are seen as administrative, transactional and not a valued asset to organisations – basically the place you go to get shouted at, or where you go to shout when you've not been paid properly. However. HR has gone through significant investment in recent times, whereby they are now seen as an enabler to the business and focus on its people development. Follow the link below to my blog on HR transformation, this will give you an insight into modern day HR…
Click Here To Download A FREE Copy Of Our Future Of HR Paper
Quick Summary of Ulrich vs Old HR
At a high level the Ulrich model was created by a guy called David Ulrich back in the 90's and has been implemented by HR leaders ever since. It has four key components which are:
Strategic – drive the business strategy forward
Financial – demonstrate financial cost reduction and value
Change – work with and lead the business through change
Performance – improving the performance of individual employees and teams
Before Ulrich HR had the following roles:
Strategic – planning, design tracking, research and strategy development
Execution – Direct contact with HR customers, strategy delivery and process advice
Administration – co-ordinating and scheduling process execution including data entry and form processing (Thorogood professional insights).
My personal observations from the above information are that in the past HR has been a function which ticks boxes and focuses on compliance tasks, that is quite removed from the customer (line managers and the business). Whereas the modern-day people functions work closely with other departments e.g. finance, they then also deliver change within the business to develop talent, streamline processes and improve technology. Finally, they are seen as the back-office function that moves the business forward without having a direct impact upon the sales of goods/services.
The Ulrich model talks about a number of components including:
HR Business Partners
HR Shared Services
Centres of expertise
Click Here To Download A FREE Copy Of Our Shared Services Tips Sheet
What is a HRBP?
The role of many HR business partners is to work closely with an organisations leaders and line managers to develop talent, upskill and build internal capability before finally trying to achieve shared organisational objectives (CIPD, 2017).
In order to be successful in a HR business partner role, individuals need to be able to build, develop and maintain strong relationships with line managers and organisational leaders. This will enable HRBP's to influence during times of change and be seen as a trusted advisor to the business.
In terms of generic tasks that HRBP's may get involved with are as follows (remember this will be different for every organisation as the model is not one fits all!):
Talent Development
Change Management
Employee Engagement
Understand business needs and feedback to HR
Ability to interpret data and MI
Work with business leaders to improve relationships and form connectivity
Upskilling of Managers
One of the key elements of a successful HRBP's toolkit is an ability to understand business needs and have commercial acumen, that will enable them to be part of strategic business conversations and understand the people implications of changes to business strategy/where improvements could be made.
Benefits of having a HRBP model?
Single point of contact for line managers
HRBP's understands the business and its stakeholders so can make informed decisions
Develop talent and allow line managers to get on with their role specific activities
Create cross functional teams to work on complex organisational projects
Allows HR to rebrand itself within an organisation
HR Manager vs HR Business Partner?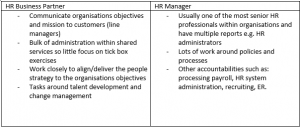 Réncái and TOM
Since the turn of the year we've seen a large increase in interest from clients around supporting their interest to evolve and optimise their existing op. models or move towards a future TOM. Some of our customers have existing Ulrich models that have acknowledges tensions or inefficiencies, some have not supported their HRBP's to have the desired impact top the business and others have poor HR systems/ineffective shared services. We offer a simple diagnostic and future support model that can suit each customers unique needs & budget. At the other end of the spectrum we still work with organisations who have traditional personnel type functions that seek to take their first steps along their new journey.
As you may have gathered this is now a rather old blog however, it has proven really popular. If you have any questions regarding TOM or HR Transformation then we will do our best to answer however, our focus has now shifted to engaging teams, developing leaders and driving business performance. 
Click Here To Learn More About Us
Click Here To Browse Our Library Of FREE Tip Sheets (HR Shared Services, Merger & Acqui…"
Thanks for reading and get in touch with Harry on hwright@rencaigroup.com with any questions or use the chat function below!